I enjoyed coming to Interstate. Their instructors are informative, will answer any questions you have and they're awesome at walking you through your training step by step. The school worked around my schedule and my family life, and if I needed to make any changes they took care of it. I was unable to come in and attend classes as times so their online courses were a great benefit.. Last but not least, the owner Bill and his staff were outstanding. Always polite and all around pleasure to be around. Thanks Interstate!
Kris from Northfield, MN has just finished his Professional Training Course. He was sent to us from McLane and now he'll be driving for them, delivering goods all over the metro and 5 state area. Kris started his training with in early November and in less than 6 weeks he was able to pass his first road test with flying colors, and complete his training.
We'd like to thank Kris for being such a great student to have here at the school. He was always in a good mood and he has a great sense of humor. We know McLane is getting a superb and safe truck driver. Best of luck Kris!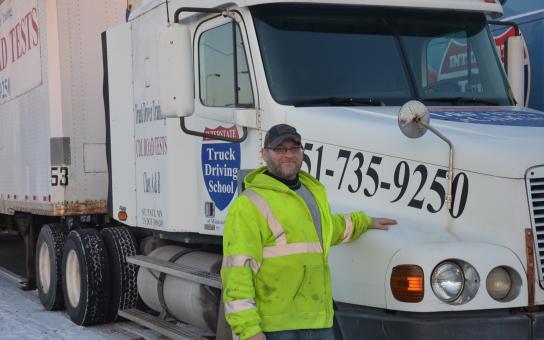 Computed Logo: