"Attending Interstate is one of the best career moves I've ever made. Bill is a great teacher, a hard nosed, steely eyed, no B.S. trucker who's not here to coddle students in this rough-n-tumble industry. He's got enthusiasm, humor, and great all around insight. The whole Interstate crew really cares! Gary was a terrific instructor to have for driving the 10 speed tractor. The classes are great, the simulators are an invaluable asset, and I'd recommend Interstate to anyone!"
Dan Q. from Minneapolis recently completed his 160 Hour Professional Tractor Trailer Program Training.  Dan passed his first CDL road test and then made great progress learning how to drive the big rigs.  His instructors always commented on how well he was progressing through out the process.
Thanks Dan, we appreciate your feedback and based on your performance during your training we are certain you will do well in the industry. Stay safe and keep in touch!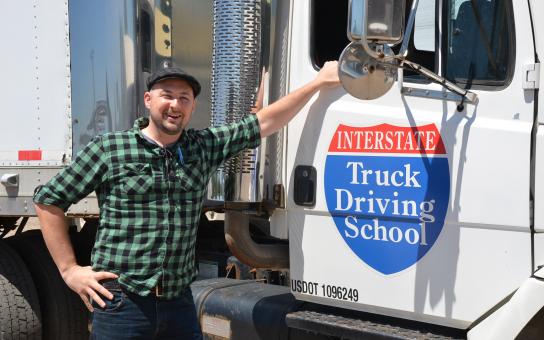 Computed Logo: