It was more than what I thought it would be when I first started. For me, I learn hands on and the school gave me plenty of time to learn everything I'll need to safely drive a tractor trailer down the road.
Zach C. from Princeton MN, just graduated from Interstate's Professional Tractor Trailer Program. He used his GI Bill to get the funding so he could attend our program. After 8 weeks of classroom and behind the wheel training he has elected to work for AAA Striping Services out of St. Micheal MN.
We'd like to thank Zach for choosing us as his training provider. He was great to have here at the school and will with out a doubt be a very safe driver. We'd also like to thank Zach for his service. We take a lot of pride in training our Veterans. We hope Zach has a long and fruitful career as a truck driver.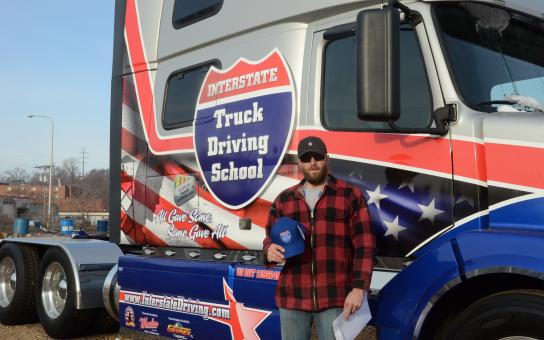 Computed Logo: