I came to Interstate from South Carolina without any previous experience and only had two weeks to learn everything I needed in order pass my road test. These guys went above and beyond to make sure I got everything I needed including all of the inspection material and backing skills. I really felt well prepared for my road test and in fact passed the first time. I highly recommend this school to anyone looking to get a CDL. The staff was very friendly and knowledgeable. Thanks Guys!
Federal Rules allow students to travel to other states to take their training and testing.  Not all of the states cooperate with the Federal Rules but we are able to training most people under our Wisconsin school license and then provide access to testing in Hudson Wisconsin.  Clint is from South Carolina and took advantage of our program.  
Clint's boss Jamie was great to work with. Clint traveled from South Carolina for his training and it takes a well organized company to put together a plan that works and Jamie did just that. Clint really stepped up to the plate and did and excellent job and worked hard to get his training done and studied diligently to prepare himself to pass his first test. We enjoyed working with both of them.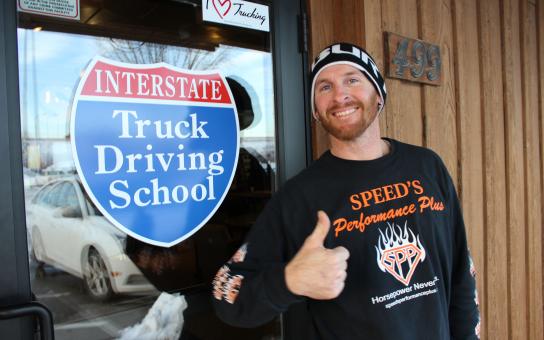 Computed Logo: