I had a good time with these instructors. All the instructors have the passion and dedication to teach. This is the best school in the state of Minnesota by far. My dream became a reality. Thank you everybody and I wish you a wonderful Christmas.
Abdourazak M. from Minneapolis, MN came to Interstate looking for a new career. But what career can offer you good pay, benefits, a retirement plan and not put you in debt for decades? Truck driving. Abdourazak knew this and he decided to become a truck driver. He took our Professional Tractor Trailer program and now he's going to be able to get a job with any of the close to 40 truck driving companies we work with. Currently he's looking to drive for either Schneider or Swift.
We'd like to thank Abdourazak for being such a pleasant student to have around. He is a very humble, kind person and there's no doubt that he's going to be a valuable team member no matter which company he goes to work for.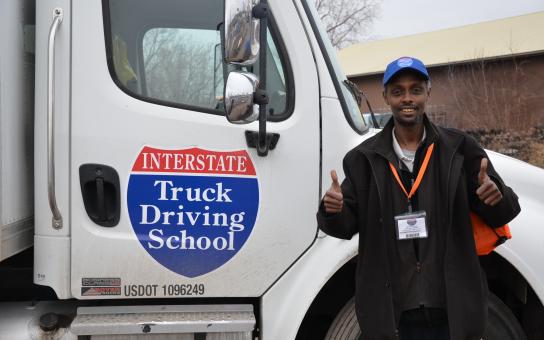 Computed Logo: